What are VW Driver Assistance Features
What does the Volkswagen Driver Assistance Package Include
This has been a particularly exciting year not just for one or two Volkswagen models, but the entire lineup. In addition to the all-new connectivity features which enable drivers to sync their smartphones through Apple CarPlay or Android Auto, a brand new suite of safety features is now available.
Perhaps you've heard about Volkswagen's crash prevention safety systems, but what does the Volkswagen Driver Assistance Package include?
Blind Spot Monitor with Rear Traffic Alert
Summary: Located at the rear end of your Volkswagen are sensors that the Blind Spot Monitor and Rear Traffic Alert systems use in order to detect if there are cars approaching along side your blind spot. Should you signal to change lanes, the system will give an audio and visual alert as warning.
lane departure warning vwLane Departure Warning (Lane Assist)
Summary: Known by both names, this system monitors the road while you are driving and will signal an alert should you stray from the lane you are driving in. The system is even able to counter-steer for a minimal amount of time so long as you are traveling faster than 40 mph in effort to help get you back on track.
Forward Collision Warning w/ Autonomous Emergency Braking (Front Assist)
Summary: That's a mouthful! Front Assist is able to watch traffic patterns ahead of you and determine a possible collision that could take place. In the event that you need to brake quickly and hard, it can apply added pressure to help you to more quickly come to a halt.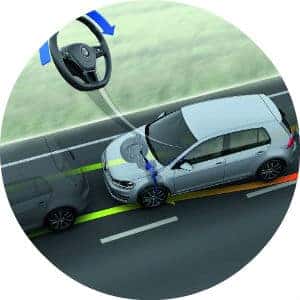 Adaptive Cruise Control
Summary: It's always a pain having to set and reset your cruise control system but with ACC, your vehicle's speed can automatically be adjusted, helping you to keep a safe distance behind the vehicle in front of you.
Adaptive cruise control vwAutomatic Post-Collision Braking System
Summary: Unfortunately not all collisions can be prevented and in the event that one does occur, the Automatic Post-Collision Braking System will automatically apply your brakes as soon as the crash is detected by the system. The goal is to prevent the vehicle from traveling any further and more damage being done.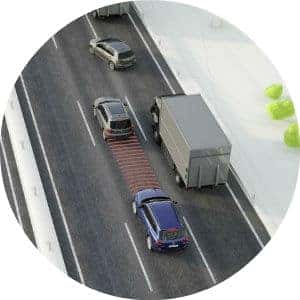 Park Distance Control
Summary: While parking, should you get too close to another vehicle or an object. Park Distance Control will immediately alert you so that you have time to immediately stop reversing.
Parking Steering Assistance (Park Assist)
Summary: At times, parallel parking can be a bit tricky; therefore, to help with parallel and perpendicular parking, the Park Assist system can actually steer the vehicle during the parking process, all that you are in charge of are the gas and brake pedals.