How Does the Volkswagen Passat Handle In the Snow?
Is the Passat a daily driver in snowy areas?
---
How does the Volkswagen Passat handle in the snow?
Depending on the climate where you live, the amount of snowfall can greatly fluctuate from year-to-year like it does here in Omaha. With that being said, during those months when snow is expected or heavier than predicted, it's important that your daily driver is prepared to handle it. Life doesn't exactly come to a stand still like it does in some of the warmer states when they see an inch of snow–you've got things to do and places to be.
For those of you who are considering a Volkswagen Passat or currently own one, and now are faced with the winter months, one important question to address is how the Volkswagen Passat handles snow.
winter snow tiresAll snowstorms are not the same and road conditions will vary from day-to-day and region-to-region, but for the most part, the Volkswagen Passat does handle well in snowy weather. We would suggest investing in snow tires or all-weather tires for added grip and traction if things do tend to get slipperier.
One advantage the Volkswagen Passat has when driving in the snow is its turbocharged engine. In ideal conditions, the Passat is able to handle as a sportier sedan, especially with its fine-tuned suspension, but in snow, this extra horsepower and torque gives it a boost to get out of somewhat sticky situations.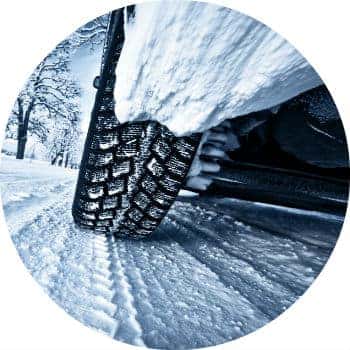 The Passat is known for its driving performance and handling. It's able to accelerate quickly while its steering is smooth and responsive. It's very much a car that you feel in control of.
(These are not rocket boosters and the Passat is not going to fly through snow like a snowmobile. It doesn't have a track system, we're sorry, but what we are saying is that drivers have been pleased and confident behind the wheel of the Passat during the winter months.)
Is the Volkswagen Passat All-wheel Drive?
The Volkswagen Passat is available in a number of trims: S, R-Line, SE, SE with Technology, SEL Premium, V6 SE with Technology, and the V6 SEL Premium. Of these options, there is NOT an all-wheel drive or four-wheel drive option. The Volkswagen Passat is strictly a front-wheel drive vehicle.
If you have your sights set on a getting a vehicle equipped with all-wheel drive, we would recommend considering one of the VWs equipped with 4Motion AWD. For those of you interested in the Passat or any other Volkswagen, we would like to welcome you here to Baxter Volkswagen. We would be more than happy to answer any questions.